Governance
Executive Director
Reza M. ZADEH
Reza Zadeh is the Executive Director of the European Foundation for Cluster Excellence. His main area of expertise is in regional and economic development through innovation systems.
For the past 20 years he has been involved in formulation, implementation and evaluation of regional competitiveness and innovation strategies. He frequently acts as an expert / advisor to European governmental bodies on cluster policy and regional innovation.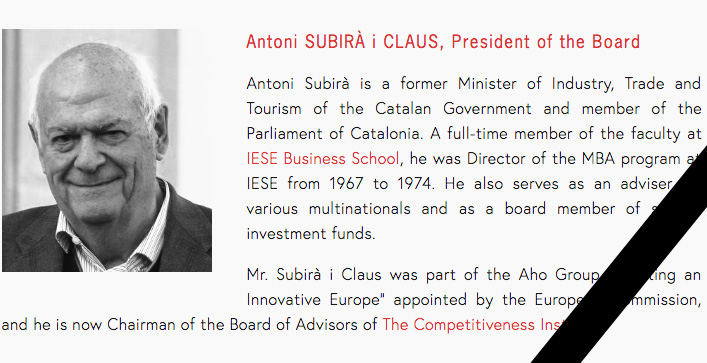 Michael E. PORTER
Michael E. Porter is a leading authority on competitive strategy, the competitiveness and economic development of nations, states, and regions. Professor Porter is generally recognized as the father of the modern strategy field and as the world's most influential thinker on management and competitiveness. He serves as an advisor to countries, corporations, non-profits, and academic circles across the globe. Professor at Harvard Business School, Mr. Porter has been leading the Institute for Strategy and Competitiveness since 2001.
The author of 18 books and over 125 articles, Professor Porter received an M.B.A. with high distinction from the Harvard Business School and a Ph.D. in business economics from Harvard.
Klaus HAASIS
Klaus Haasis is one of Europe´s most experienced designers and managers of cluster initiatives, collaboration processes and innovation systems.
Currently Director and Secretary of TCI - The Global Clusters and Innovation Practitioners Network - Barcelona, Mr. Haasis is involved in international projects to promote innovation, technology transfer (European Forum on Clusters in Emerging Industries), entrepreneurship, commercialization and internationalization (European Cluster Group).
Werner PAMMINGER
CEO of Business Upper Austria and Business Agency of the State of Upper Austria, Werner Pamminger is an international and renowned expert in cluster management. Prior to that he was the CEO of Clusterland Upper Austria Ltd. the Upper Austrian regional development agency for cluster and network management which is considered as a role model of excellent and successful cluster management within Europe.
Werner's competences are situated in the fields of general management, project management, institutional development, workshop trainings and moderation. He serves in various expert groups both nationally and internationally.
Joan Enric RICART
Joan Enric Ricart is professor of economics and strategic management and head of IESE Business School's Strategic Management Department. Within University of Navarra, he is also associate director of faculty for the departments of strategic management, economics, production, technology and operations, and entrepreneurship.
Joan Enric holds IESE's Carl Schroeder Chair of Strategic Management at CGS - the Center for Globalization and Strategy.
Nacho DUALDE
Manager of ESCI, the School of International Studies at Pompeu Fabra University in Barcelona, Nacho Dualde is an expert in international business. For 10 years he honed his professional career in the field of fashion companies looking to expand into international markets, where he held management positions. Since 2009 he has led ESCI-UPF's new strategy: a greater social presence and the introduction of the new Bachelor's Degree in International Business and Marketing.
Nacho holds a Bachelor's Degree in International Trade and a Postgraduate degree in Financial Management.